WTF, D&D: Cthulhu '90s Solo Project – The Toné Out of Space (Part 2)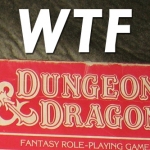 When we left off our investigation, Lisa "Left Eye" Lopes had been contacted by her FBI friend, Wolf, to check out an unusual crime scene. A deformed body and strange burn marks had been discovered at a cabin in the mountains. Left Eye spotted a clue in the partially burned cabin and followed it to a store in Seattle's slums. She forced information from the racist proprietor and learned that strange tuning forks might be linked to the mysterious body. She bit a dog with her ghoul teeth and made off with one of the forks. What are these strange tuning forks? How do they relate to Tony! Toni! Toné!? Will Left Eye get a chance to use her flamethrower? These answers, and more, in the thrilling conclusion of Left Eye's Solo Project: The Toné Out of Space.
Steve: What up, dude? What was happening in the adventure?
Zack: There will be a paragraph right before this explaining exactly where we left off.
Steve: But it's not there yet.
Zack: It will be redundant to repeat it here.
Steve: You could have repeated it already!
Steve: Okay, let's talk about those pictures of Titan that NASA released. Did you see that? It looked like earth.
Zack: Space always looks interesting, but you know what's really interesting? A bug. One bug walking around on a stick. There probably aren't even any bugs on Titan.
Steve: But if there are, I bet they are super cool and smart as heck. Like silicon crystal bugs.
Zack: Why would they be smart?
Steve: Hostile environment, dude. There's so much gravity and whatever on Titan they have to be smart to survive.
Zack: I'm pretty sure gravity is one of those things you can't outwit.
Steve: Tell that to all the balloons at the counter at Party City when I go to buy jugs of liquid latex to make my own prosthetic masks. Mankind has mastered gravity.
Zack: Steve, why are you buying jugs of liquid latex?
Steve: I just told you, I make my own masks. It's, like, my third tier hobby. First being rpgs and second being video games and cool music and movies. But third is masks.
Zack: Okay, best movie of 2015.
Steve: No Escape. It was a non-stop thrill ride. Owen Wilson is one of America's most versatile leading men and it was probably my favorite action movie since the 2004 remake of Walking Tall.
Zack: I wish I could go back to the point in this conversation where finding out you buy jugs of liquid latex at Party City was the strangest revelation about you.
Steve: I'm entitled to liking fine cinema.
Zack: And our beloved readers are entitled to the adventure. So let's pick up where we left off.